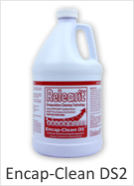 ENCAP-CLEAN DS2
With its potent encapsulation cleaning performance, Encap-Clean has become the benchmark for encapsulation shampoos in the carpet cleaning industry. Its powerful formulation mixes at 4 ounces per gallon. It out-cleans every other encap shampoo on the market today. Encap-Clean DS2 is loaded with its unique Crystalon3 encapsulation polymer that encapsulates soil and holds it in suspension until it can be extracted from the fiber during the post-vacuuming process. Encap-Clean DS2 combines a built-in Soileze protector along with a soil-resisting polymer, so carpets can't attract soil and will actually stay clean longer between individual cleanings.
ENCAP-1
Releasit started the encap revolution when the first jug of Encap-Clean rolled off the line. In 2011, Encap-Clean DS underwent a product reformulation to make it better for use in a spray application (the revised version was renamed Encap-Clean DS2). But it turns out that some folks still want their original Releasit formula. Perhaps they're nostalgic for the product that earned them wheelbarrows full of money. So we've decided to offer both. Encap-1 reintroduces the original Releasit formula in all its encap glory. So now you can choose Encap-Clean DS2, or the original hi-performance encapsulation shampo
o‑
renamed Encap-1. The revolution continues.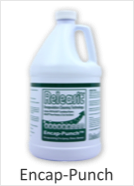 ENCAP-PUNCH
is a unique 3-in-1 encapsulation product. Encap-Punch is first of all a strong encapsulating traffic-lane/pre-spray that's loaded with Crystalon3 encapsulation polymer. This CRI approved pre-spray is powerful enough for everyday cleaning challenges. It emulsifies embedded soil, making the cleaning process easier. And since Encap-Punch is a true crystallizing encapsulation detergent it can effectively become 3 powerful encapsulation products in one: (1) an encap pre-spray / traffic lane cleaner, (2) an encap hot water extraction cleaner, and (3) an encap bonnet cleaner. With its built-in Soileze protector and its soil-resisting encap polymer, carpets resist re-soiling and stay clean longer.


Encap-Punch has been awarded the CRI Seal of Approval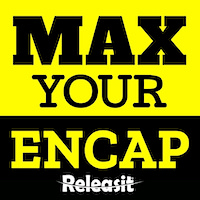 Call 1-800-330-1888 or visit TryReleasit.com
to order a free sample pack.